June 2, 2016
In May 2014, I posted a review of one of the best tools to ever cross my desk – WordRake. I meant to post an updated review in May 2015, but … the Texas floods happened.
You're asking, what it this WordRake of which you speak?
It's a software add-in for Microsoft Word and Outlook that acts as an 'in-line editor designed for professional business writing.'
"WordRake is designed to edit documents and emails to remove useless phrases and words, making your documents and emails clear and concise." Take the sentence below. The original was composed in perfect legalese, but the raked version is much easier to read and presents a stronger argument.

I write a lot – pleadings, memoranda, correspondence, and more for my clients; magazine articles; my blog; training materials; and homework*. After a week of 'raking', I discovered I use 'that' a lot more than necessary. WordRake clarified my thoughts without changing my voice.
It's so easy to use – highlight and rake. Within a minute or so, WordRake scans the document and provides suggested edits. All that's left is to review the suggestions and decide whether to accept or reject them. I am still surprised by how much unnecessary and cumbersome language it finds in my writing. Bottom line, WordRake continues to make me a better writer.
Click below to see WordRake in action:

Sign up for a free trial today (no credit card required). You'll be hooked.
* I finally graduated!! On May 13, 2016, I earned the right to add MATD (Master of Arts in Training & Development) to my credentials.
Leave a comment
---
May 18, 2016
I've always known there was a correlation …
Leave a comment
---
April 26, 2016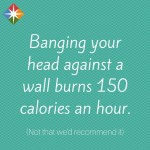 The phone rings … intelligent sounding idjit just wants to ask me a quick question. Ugh!! I give my standard response – '… we only work with attorneys …'.
Idjit replies, ' … but it's just a question. Is there someone there that can answer a question for me? I don't want to have to have to pay anyone for a consultation or anything …"
ARE YOU FARKING KIDDING ME??!!
'Sir, that's how we make our living' <he cuts me off> "No. You make your living in court.'
I repeat,  ARE YOU FARKING KIDDING ME??!!
"I don't make my living in court. I make my living by providing paralegal support TO ATTORNEYS, not the public. I answer questions from attorneys. I'm a PARALEGAL. I don't answer questions from the public because they are usually questions of law and I'M NOT LICENSED TO PRACTICE LAW."
Idjit: "Well, I know laws are different for paralegals in different states …"
I visualize a thought bubble over my head:
1. You're calling from Georgia.
2. I'm in Georgia.
3. Georgia limits the services paralegals provide to the public.
4. IDJIT!
"Sir, paralegals are NEVER licensed to practice law. Attorneys go to law school and pass the bar so they can answer legal questions and give legal advice. I didn't go to law school or take the bar and I choose to provide my services to attorneys that PAY ME for my time and expertise."
Idjit: 'Oh, uh, but …'
"Now you want me to violate my principles and possibly break the law AND you want me to do it for free?!?!? Would you call a random doctor or nurse to ask a medical question and not expect pay for their services?"
Idjit: 'Yeah, because the hospital and insurance companies pay them …'
Oy! For the love of …
<I've now successfully burned 1000 calories>
The rest of the conversation is a blur … I think he broke my brain.
Leave a comment
---
April 19, 2016
I'm still anxiously watching weather reports from Houston … it's really not the day to mess wif me! <Mah nishtana hayom hazeh?>  But you can't stop stupid.
My business phone rings – 'unknown caller'. I sense a disturbance in the Force and answer with trepidation.
"StarrParalegals; this is Pamela Starr. How may I help you?"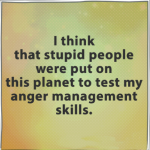 Caller: 'Uh, yeah, uh. Can you help me to uh …'
Me: "No sir. We only work with attorneys."
Come on people. I don't need to be a Jedi master to identify a caller as a member of the 'public'.
The line goes dead. Moments later, the phone rings again – same number. Oh, really? 
The stoopid is strong in this one.
"StarrParalegals; this is Pamela Starr. How may I help you?"
Caller: 'Uh, yeah. I just called. I need help with a, a Georgia corpor… incorporation. Is that …'
Me: "Sir.  We only work with attorneys. It states that quite clearly in Google search results and on our website."
Caller: 'Yeah. Uh. Uh. Right. Uh, I'm a [sic] attorney in South Georgia <yeah, that's the ticket!>. Can you help me?'
I'm not buying it. After 30 years in the business, 9 on my own, my lawdar is pretty good.
Me: "May I have your name?"
It's a reasonable request. Right?
Caller: '<grumble> unintelligible comments to someone in the background … giving me the <expletive> runaround!' <dead air>
REALLY?!? Asking for your name is 'giving you the runaround'? 
Leave a comment
---
April 19, 2016
April 18, 2016 was challenging. Houston was hit by storms of biblical proportions – again . My hometown has been declared a disaster area. It hasn't even been a year since the '2015 Memorial Day Flood'.
Mom's home flooded last year – a first in the 50ish years my family has owned the house … a first for so many homes and businesses in southwest Houston. My hometown is still reeling from the after effects of that storm. Today, the water came this close to coming into mom's home. Many friends haven't been as lucky and the rains are set to come back again.
And I'm #HelplessInAtlanta following posts as the waters rise and recede. I keep scrolling through FB posts – a devastating earthquake in Ecuador and some <insert expletives in several languages> s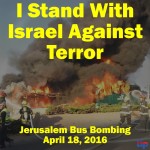 orry excuses for humanity bombed an Egged bus in Jerusalem. #IStandWithIsrael
Leave a comment
---
April 15, 2016
I'm taking a break from Passover Kitchen Tetris* to share 'my' brisket recipe … Why? Because folks have been asking – duh!
'My' recipe is a modification of Mom's / Mema's brisket. First, you have to understand that Mom is the 'Queen of One Dish Prep' and a founding member of the 'Who Needs Recipes?' movement.
Face it, we're all busy little worker bees with far too much to do, and never enough time. On top of that, I have a lovely, Lilliputian kitchen that has barely enough room for one cook. My only prep area is the counter above the dishwasher. And, I keep a kosher home. Two sets of everything (cookware, serveware, dishes, glasses, flatware, small appliances) – one for meat, and  another for dairy, PLUS a set for 'neither'. Mom's one-dish wonders help me maximize prep space and cooking areas.
I should mention that no one in my family ever learned to cook for just one or two people at a time? All our family recipes generate enough leftovers for several rounds of Freezer Tetris.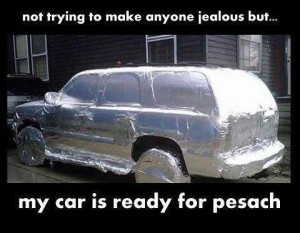 But on Pesach: mah nishtana hayom / halayla hazeh?? Why is this day/night different from all other nights?
I'll 'splain you … Everything in my kitchen will have to be moved or 'sold' and replaced with its 'kosher for Passover' counterpart. Think of it as spring cleaning on steroids. Not only do I have to 'flip' my kitchen, I literally have to pour boiling water on every surface before I can bring in all the pesadik stuff.
But I digress …
Are you ready? Remember, in my family, there are no measurements, weights, or numbers – it's all 'to taste', or 'that looks about right'.
Ingredients:
brisket (with just enough fat)
potatoes
onion(s)
carrot(s)
celery
mushrooms
kishka (yep, I found a kosher l'pesach kishka!!)
orange marmalade (no corn syrup)
horseradish
dry onion (& mushroom soup)
purple wine (Manischewitz Concord Grape)
water
extra large (foil) roasting pan
large, sturdy cookie sheet
lots of foil
Wrap the cookie sheet with foil
Place roasting pan ON cookie sheet
Rub brisket with horseradish & marmalade and place in roasting pan
Toss in everything but the liquids & soup(s)
          Nu? You thought I was kidding about Mom's process?
          Fine … cut, chop, do whatever makes you happy with the cuttable ingredients
Pour dry soup(s) over the top
Pour several glug-glugs of wine and about 'that much water' over the top
No, I can't tell you how much water. You need 'enough' …
Me? Enough for gravy/onion soup in the pan after removing all the cooked ingredients.
Heat oven to 250 degrees
Cover roasting pan with foil and make sure it's sealed real good
Pick up cookie sheet/roasting pan combo and place in oven
Go do something else for the next several hours
Have a nice schluff -
Brisket's done when the house smells amazing
Take the brisket out of the oven … USE THE COOKIE SHEET to pick it up!
Presentation is on you –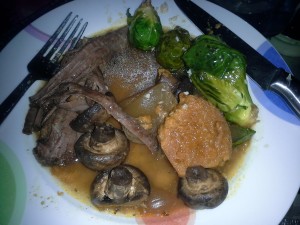 Chag sameach v'kasher! B'tay avon!!
* My Jewish followers will understand

Leave a comment
---
October 29, 2015
I am a true solo – it's just me and two cats. No husband, boyfriend, or significant other to assist with the bills (or anything else in my life). I work in my unfinished basement at a beautiful desk donated by my friend and mentor, Lyza Sandgren. My walls and ceilings are exposed studs; my floor, concrete. But for the island that is my desk and the leftover carpeting on the floor, I am surrounded by storage boxes, the water heater, and furnace. With no walls, I have no place to hang my diplomas, certificates, or other office decor.
Let me clarify, I'm not complaining. I chose this life and I love what I do as a professional virtual paralegal. There is nothing to compare to the flexibility of grabbing my laptop and being productive – anywhere. The only thing I miss about working in a brick-and-mortar law office would be the steady paycheck … okay, fine, I miss having a full benefits package.
To stay in business (and keep the bills paid), I rely on my clients to pay me timely and in full. To paraphrase Blanche DuBois (A Streetcar Named Desire), 'I depend on the kindness of strangers.' I've never actually met 95% of my clients in real life. Most of my clients find me through social media and referrals, and occasionally from a professional listserv in which I participate.
The attorneys I 'know' from my interactions on Facebook, LinkedIn, or the listserv are hardly strangers. These are people with whom I have had several intelligent (and sometimes silly) interactions. So when one of them contacts me for a one-time gig, I sometimes rely on email confirmations to seal our agreement.
Attorneys will kvetch, until they're purple, about clients who fail to pay their bills on time. The same attorneys, also insist upon a retainer or prepayment before they'll work on a file. However in the bizarro world in which I work as a virtual paralegal, they will huff and puff about providing me with the same courtesy.
This year alone, I've had two attorney clients – with contracts – fight me tooth and nail over my invoices. If it weren't for my own bottom line, it would almost be comical how they try to wiggle out of their contractual obligations. Seriously people, I have better things to do with my time and energy than fight with anyone about payment.
It is basic business practice – you hire me to work, we agree on a fee, I complete the assignment, send you a bill, and you freaking pay me. It's all paint by numbers. Isn't it?
I'm currently chasing after a 3rd attorney for payment of my duly earned fees – a non-contracted attorney client that hired me in May for a one time gig. As a courtesy, I offered him the "friends and family" discount because I know him from the listserv. We agreed on a fee; I completed the work promptly; and at the end of the month I sent him an invoice.
His response to th

e invoice was, "I will forward payment once the client pays me." AND he addressed me as Pam in his responsive email… the horror!
Since we didn't have a formal contract in place, I didn't hold him to my net 30-day payment clause. I did, however, admonish him for calling me Pam.
On July 1st, I sent him a 'friendly' reminder email with another copy of the invoice. Four days later he responded, "The issue is still open." In my head I went full-on Yosemite Sam – after all, the original invoice was only for about $200.
For those of you who follow this blog, you know my summer did not begin well. My mom's home, in Houston, flooded on May 26, 2015. I've spent the greater part of the last several months at her side. The folks on the listserv are more than well aware of some of the more significant issues with which I had to deal because of the impact of the flooding. The least of which has been the impact on my finances and business.
I've tried, unsuccessfully, to avoid using the flood as a crutch. It seems unprofessional for me to invoke my circumstances to impart guilt on those who refuse to pay me timely.
When it came time to send out the July bills at the beginning of August, I reversed the discount and made demand for payment within 15 days, reminding him I too expect timely payment for services rendered. His response, "And I have yet to be paid by the client, as they hit some snags. We anticipate closing 9/1." AND he called me Pam again!
I immediately responded with a gentle reminder that I prefer Pamela to Pam, and, much to my embarrassment, I invoked the flood.
Yosemite Sam was having an old-fashioned cussin' party in my head. It's not nearly as funny as it may sound.
I rationalized it. I'd give him until September 1 to make good on the invoice. The reminder went out on September 2nd.
<crickets>
He couldn't be bothered to send a response.
On October 1st, I reiterated my demand for payment in full. I even used bold, red 18-point font followed by a lot of exclamation points.
<more crickets>
October is almost over and I'm still waiting for payment of, what most might consider, a measly $225.
Remember, I'm a true solo. That $225 represents round-trip airfare back home to Houston to help my mom. Ethics, and my personal moral compass, prohibit me from outing him by name, location, or area of practice either here or on the listserv. It would cost me more than what I'm owed to sue him. I have few options, but venting to you, my loyal followers, helps.
In the meantime, I'll go back into the invoice and assess interest charges and on November 1st, I'll send him the updated invoice and demand for payment.
And on that happy note, I'll get back to working for the clients who appreciate and pay me.
1 Comment
---
September 8, 2015
… it's time to reflect, repent, forgive, and rejoice.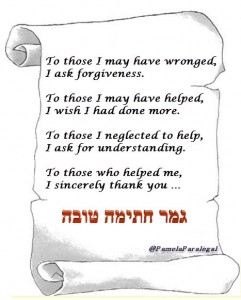 In these days before the High Holy Days, I ask your forgiveness and understanding. I wish everyone a year of peace, prosperity, health, and joy.
At this time, I also want to extend my gratitude to those who helped me, my mother, and the Houston community following the flood. May you all be blessed.
Omayn, v'omayn.
Leave a comment
---
August 26, 2015
Y'all know me – 'speechless' and 'without words' rarely apply to me. It usually happens when I am too stunned by the comment(s) to respond immediately.
Imagine my reaction to a blog post titled: "Your Paralegals are an Embarrassment". I clicked the link. My hope was to read '. . . of riches'.  (It pains me to post the back link, but I'm no 'embarrassment'.)
Hope.dashed.
The author gleefully states, "Today, I'm going to really annoy the paralegals."
ANNOY?
Oh, bless his heart.
In short, the author (and several commentators) think our profession is overrated; we should and can be replaced by technology; and/or entry level associates provide more value to a practice than we do.
REALLY???
My comment, awaiting moderation as of 10:45 a.m.:
"Wow. Just, wow. You really have zero, zilch, nada, no appreciation for our profession.

"Paralegals have largely been replaced by technology." Well, using that logic, so have many attorneys. Tell me, when was the last time tech checked the local rules and forms to confirm that all was indeed in order? Oh, right, 'my software/service vendor does that automatically.' Not so much. I have a client in California who relies on his vendor to provide all the latest local rules' forms updates. All it took was ONE rejected filing for him to realize that the vendor was not updating the forms and that it was more cost effective to have a paralegal take a few extra minutes to make sure the forms in use are, and remain, current.

"Is client communication better handled by the paralegal or by the attorney managing the matter? What about simple tasks like preparing documents for trial?" Let's look at this from the client's point of view – does your client want to pay your hourly rate or a paralegal's?

And if you think paralegals don't specialize and create niches, you should recheck your sources. 99% of us are – Brad, what did you call it? – oh, right, 'hybrids'. Our titles may not reflect the jobs we actually do, but, and trust me on this, we've always been hybrids.

All of you seem to think the only way to 'employ' a paralegal is to hire one as a full time staff member. Most solos/small firms don't have the budget for full-time, salaried employees – especially when those employees' services aren't required full time. You want paralegals who are 'tech-driven'? Open your eyes! There's an entire subset of trained, experienced, certified/certificated, practice-specific virtual paralegals. We, yes, 'we', provide as needed services. That means 'pay as you go'. You want to improve your bottom line, increase productivity, and keep your clients happy? Think virtual."
On another note … I wonder if it ever occurred to the author to post credit for his use of the image?
7 Comments
---
August 12, 2015
Yesterday, I received a call from a non-attorney who claimed he was helping 'his' attorney locate someone who could e-file appellate pleadings. Well, heck yeah! I can do that. The conversation quickly devolved and I found I had crossed over into the Twilight Zone:
"The attorney withdrew from the case because he didn't have the capacity to e-file."
"'We' need to hire you to e-file for the attorney because 'we' don't have access to email."
"Um, I think he has a computer."
"'We' want you to receive the notices and call the attorney to tell him what to do next."
There was much more to the conversation – oy veysmir! – but I'll skip to the end because today's installment is so much more entertaining.
I kept asking him about email, to which he responded:
"The Internet will eat your email / email account if you don't use the account regularly. I know because my email account is gone." "Well, no, I don't actually remember my email address."
OMG! The crazy actually got crazier –
The Internet challenged non-attorney just called back. He read me a letter 'drafted by his attorney' authorizing me to be the paralegal on the case and giving me permission to take direction directly from the client.
OH, HELL NO!
'Sir, that's not how it works. Your attorney needs to contact me; we'll discuss his needs; I'll prepare a contract and he'll execute and return it.'
'Well, how does your contract differ from this letter?'
'Aside from the fact that it isn't a contract and it's written to circumvent the requirement that any work I do must be supervised by an attorney, well, pretty much everything.'
'Then you need to MAIL me a copy of your contract so I can review the terms to see if I approve them.'
'No sir, that isn't how it works.'
'Well, yes it is – I'll be hiring you and I'm hiring the attorney. I'll pay each of you directly.'
<Insert Scooby Doo "Huh?" here.>
'No sir, you hire the attorney who then subcontracts to me. The attorney will direct my involvement in the case. I'll bill him for my time and he'll include that in his bill to you. I will not accept payment from you.'
'But I'm the one hiring you.'
'No. You don't seem to understand the dynamic. Your attorney has to hire me. And, frankly, I'm still baffled by your comment that your attorney doesn't have Internet access.'
'Why should he have Internet access? That's why I want to hire you. You'll e-file according to the court guidelines and be cc'd on all emails. When those emails come in, you'll call the attorney and tell him that something has come in and MAIL him a copy.'
'Sir, it doesn't work that way. The e-filing account has to be created using the ATTORNEY'S email address and bar number. The bar number and registration serve as his signature on the filings. He'll be receiving the same email that I receive as a 'cc' recipient. '
'Fine, I will get you his bar number and you can create the account.'
<Wait! What?>
'You really don't understand how this works, do you? The attorney MUST have his own, LEGITIMATE, email account. There is no universe in which I will create an email address for yourattorney@starrparalegals.com. For any of this to work, your attorney must have an active email account and Internet access.'
'Why would we need YOU then??? If the attorney is going to do the work …'
<Seriously, Allen Funt can step out of the shadows any time now.>
'Let me try to explain this again from my perspective – I work for attorneys. Period. An attorney must execute my contract before I'll do any work for him/her on any project. The attorney tells me what needs to be done and I do it. You need someone who knows how to e-file – that would be me. The attorney drafts and signs pleadings then emails them to me. I vet the pleadings for formatting and confirm it all pages and attachments are included; then log into the system – using the attorney's login information – and e-file the document(s). Once filed, I download the e-filing confirmation and file-stamped copy and email them to the attorney.'
'Why can't you just MAIL it to him??'
'BECAUSE THE MOST BASIC REQUIREMENT FOR ANY OF THIS TO WORK IS THAT THE ATTORNEY HAS INTERNET ACCESS AND AN EMAIL ADDRESS.'
'I don't understand why you find this so objectionable. How hard is it for you to call the attorney and tell him that something was filed and then MAIL him a copy??'
<Lawd, help me!>
'Well, let's see – you're trying to put me in a position where I'm working for you, not the attorney. At the very least, it is an ethical conundrum for me. I'm not a lawyer –'
'I know that.'
'<audible sigh> I'm not a lawyer, I do not practice law, nor do I work for non-attorneys. To do so puts my entire career in jeopardy. Furthermore, it is impossible for me to wrap my head around the concept of an attorney without Internet access or an email address.'
'But the court says that it recommends that a paralegal or secretary be cc'd –'
'Do you even understand what a 'cc' is?'
'Yes, a carbon copy. You receive the email, call the attorney, print and MAIL him a copy.'
<The lump on my head is now the size of a pomegranate.>
'No. The attorney receives the SAME EMAIL with the same attachment. It's up to him to monitor his email account and be responsible for the case.'
'Again, I ask, why would we need you if he's expected to do all the work?'
<Did I say pomegranate? Cantaloupe . . . >
'Well, because it's his job to practice law and represent you? I don't understand why you want the added expense* of my time to open and print a document that he'll receive as the primary on the e-filing account, and then MAIL the email attachment to him for review. This is a paperless system. The only reason the court recommends a cc is if there's a technical failure or the attorney is out of the office for a prolonged period of time.'
'Well, he is out of the office all the time and he would need you to call him to tell him about the email and take care of everything.'
<Malpractice? UPL? Anyone? Bueller . . .>
'It really doesn't work that way. He needs to have an email account that he monitors. He is the responsible party . . . not me.'
'So I guess I need to meet with him tomorrow and have him contact you to see if this will even work.'
'That would be the best place to start.'
'How do I get a copy of your contract?'
'I'll draft it AFTER I speak with the attorney and email it to him to review and execute.'
<You know where this is going now, right?>
'Why can't you just MAIL it to me??'
'I'll be available late tomorrow. Have your attorney call me.'
*I will happily part a fool from his money …
1 Comment
---